Cross continents, formats and XR device types
TheoremXR enables groups of engineers to collaborate in real time, regardless of location. Whether it's dispersed design teams needing to review a design milestone, or layout engineers needing to review a factory or workstation layout, or the need to train remote staff on a build process, TheoremXR provides a secure collaborative platform to address those requirements.
Whether it's across a campus, a country or continents, teams of users can interact and review design data in real time, in context and at full scale.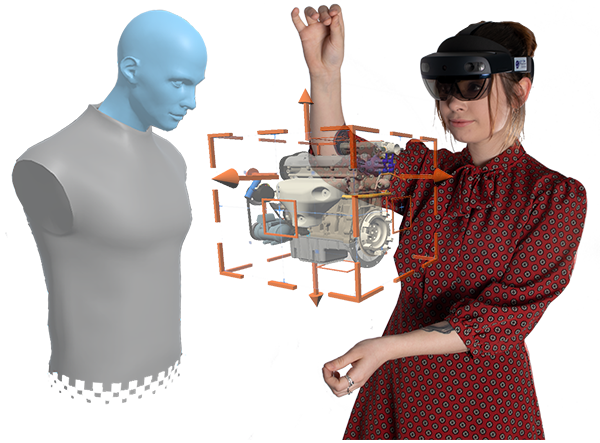 Connecting global engineering teams
It is incredibly important that teams can collaborate around a design concept regardless of where they are, which device type they are using, and to participate in the review process by sharing thoughts and ideas, whilst being able to record audio, video and typed notes for review after the session.
It can connect all engineering teams, delivering real time collaboration across Virtual or Mixed reality devices as well as for the Desktop and Tablet user.
This type of collaboration is helping to accelerate development, refine designs, improve communication, efficiency, whilst reducing the expenses associated with co-located teams.

Benefits and Cost Savings
Spatial Thinking
Escape the cramped confines of your computer monitor, and harness your whole brain. Experience your 3D design, rather than viewing it on a flat 2D computer screen. Collaborate in real-time, securely and remotely using intuitive XR tools for more effective decision making.
Eliminate Geography
Remove the barrier of geography and eliminate the need for physical meetings. Employees waste less time travelling, transport costs are reduced and the environment is protected. Collaborate in a shared virtual space, meet together in real-time, and leave comments for your team to see later.
Improve Design Reviews
Improve the effectiveness of design reviews by securely sharing live design data direct from CAD, regardless of what XR device you are using or where staff are located. Capture decisions, annotations and actions, and automatically feed them back into CAD to close the design review cycle.
Remote Team Work
Team work is highly enhanced by gathering people around a virtual model, or immersing them in it. At full scale it is possible to better understand the technical challenges, quickly approve design proposals, iterate and make decisions.
Improve Decision Making
Using Extended Reality, you can make better decisions, save time and identify design challenges together with your colleagues, suppliers, or customers to increase common understanding and facilitate more creative discussions.
Connect and Collaborate
You can connect and collaborate for faster product development when collaboration isn't confined to the walls of an organization. Let your team work on the same model from remote locations using multiple XR technologies for shorter time-to-market and increased manufacturing efficiency.
Demonstration Request
Register now to request your free demonstration of the TheoremXR product suite.
In just a few simple steps, we will be able to validate your request based upon the details you provide.
Note: Please use your company email address for validation purposes as we will not respond to personal email accounts.
Complete all of your required details.
Let us know which TheoremXR product you are looking to learn more about.
If you have a specific use case that you would like to discuss then please let us know.
We will contact you to discuss suitable days and times and get everything setup.