Data sharing made easy
3D PDF enables the creation of interactive PDF documents enriched with 3D content directly from your native source CAD (3DEXPERIENCE, CATIA V5, Creo, JT or NX) that can be shared with NON-CAD users.
Based upon Adobe technology, 3D PDF is an enabling tool for anyone who needs to be involved in the design process without needing access to CAD.
3D PDF can be configured to distribute CAD models to different departments using a number of use case based templates, removing the need for physical documents and drawings to be shared.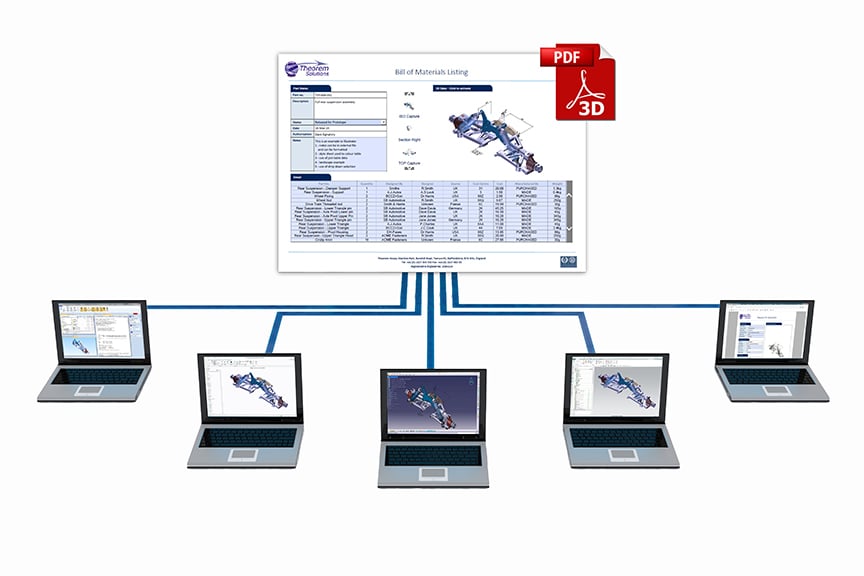 Which CADPublish Solution is right for you?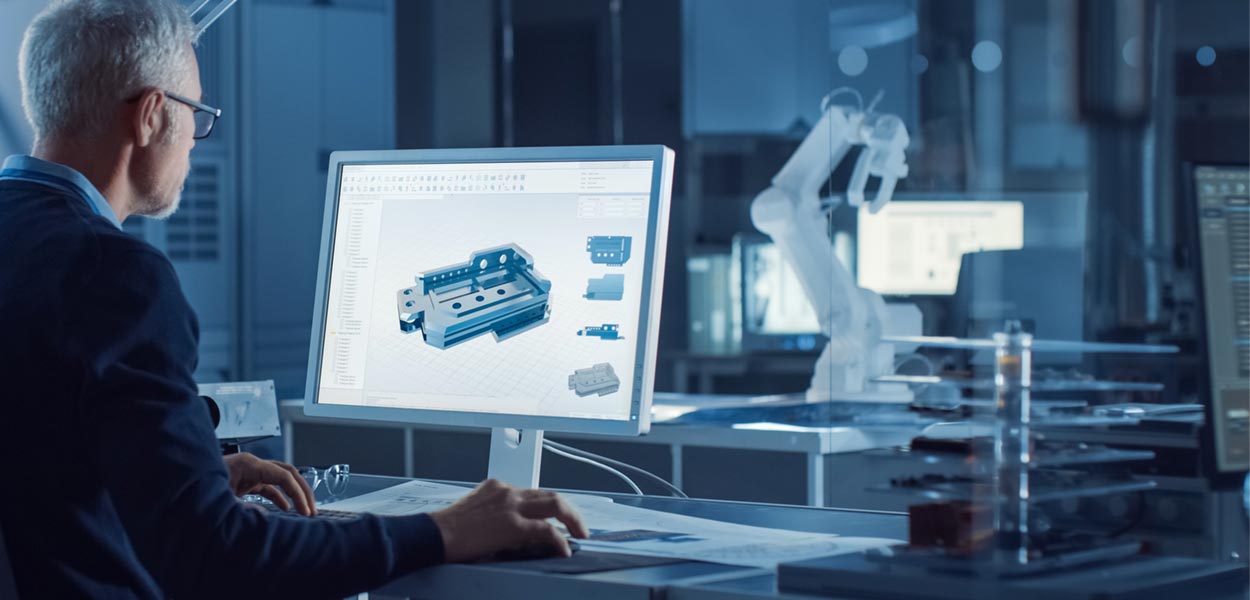 3D PDF Create
This is a low-cost entry into the world of 3D PDF for CAD users.
Interactively publish a 3D PDF file from within 3DEXPERIENCE, CATIA V5, CREO or NX applications.
Interactively publish 3D PDF documents from within your CAD application
Use familiar commands such as 'save as' / 'export as'
Publish your CAD data to company branded documents
Publish your CAD data to multiple templates simultaneously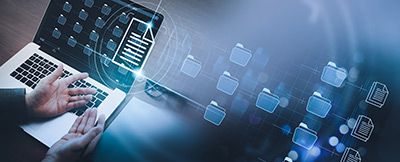 3D PDF Enhance
Combines '3D PDF Create' capabilities with the ability to batch process.
Supports ad hoc or volume publishing
Enables casual users to drag and drop native CAD files
Also available to JT users
Offers independent viewing of the native CAD file
Did you know?
You can use a 3D PDF as a Technical Data Package
Using 3D PDF isn't just a great way to share CAD data in an easily accessible, readily available format, you can use it to create an information rich Technical Data Package (TDP) that contains all of the information about the CAD data embedded within the document.
The documents can be annotated and additional rich media such as PowerPoint files, video, hyperlinks to additional online information, and spreadsheet data can be auto-embedded or inserted manually. The PDF can also act like a .zip file to transport additional files, for example native CAD data, purchasing documentation or statistical process control documentation.
And because 3D PDF is a lightweight data format, it can easily be sent via email, and can get through most firewalls.
Have you tried a sample 3D PDF document yet?
3D PDF can be used for internal document sharing, or to create Work Instructions, RFQ's, Training and Sales Documents or for supplier communication, and in support of Model Based Engineering processes.
Download a sample interactive 3D PDF document or view an interactive HTML5 supported document in your web browser.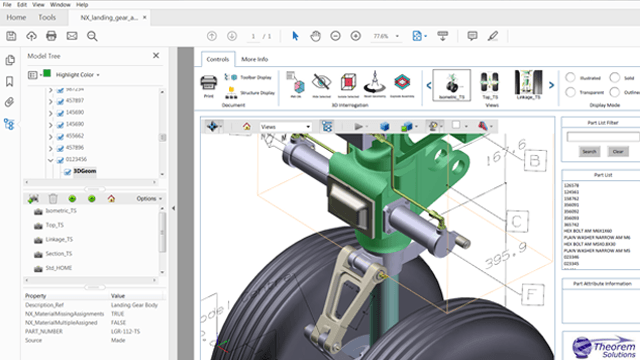 Protect your IP using 3D PDF
Adobe Acrobat enables you to password protect your PDF documents, meaning you can share a single, password secured document which has been compressed to a shareable size, safe in the knowledge that your organisations supply chain will have no issues accessing the data.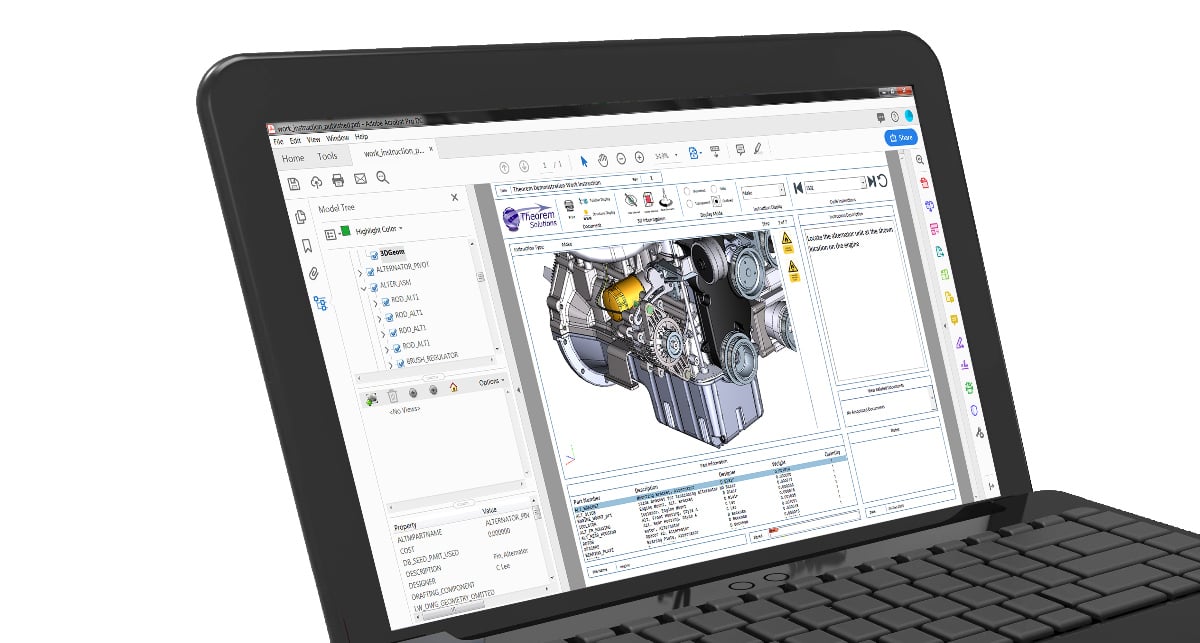 Everything you need to know about the portable document format (PDF)
Of course, you know what a PDF file is, right? It's a document that has been converted from something like Microsoft Word or PowerPoint so that its contents can be shared by the author; that's it, isn't it? Well no actually; it's quite a bit more than that.
Catchup on the Latest CADPublish News
Why Theorem Solutions?
Our solutions are built upon the development tools and APIs supplied and supported by the major CAD vendors that we have strategic partnerships with. This means we can provide you with a robust application that offers full control over data preparation and optimization, ensuring the richest quality data is created to give the best data and seamless integration with your native CAD system, enabling you to share data with non-CAD users.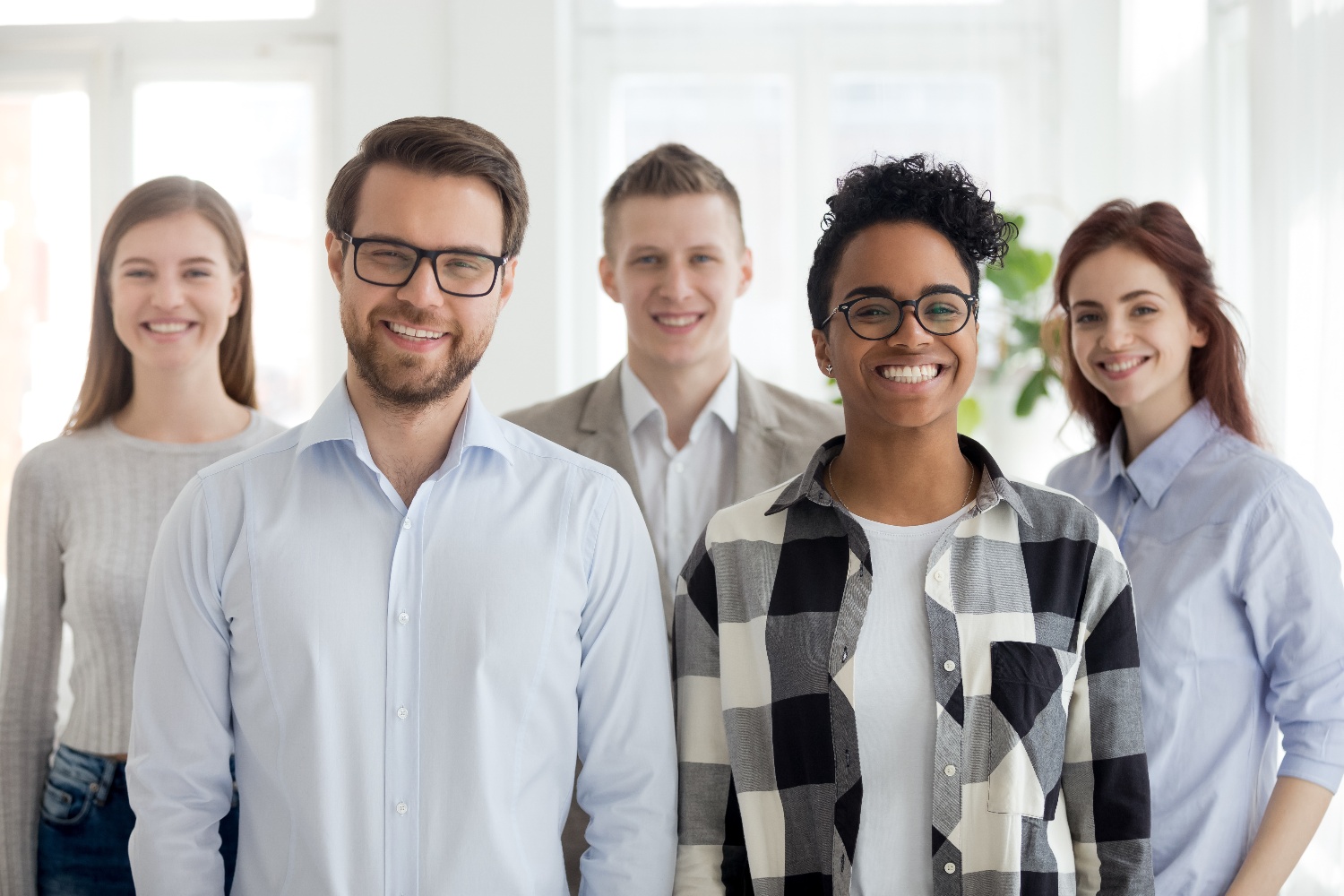 Evaluation Request
Register now to request your free evaluation license of the Theorem CADPublish solution.
In just a few simple steps we will be able to validate your request based upon the details you provide.
Complete all of the required details
Which product you are requesting an evaluation for
We will contact you to discuss your requirements
Once we have established that we can offer a solution, an evaluation license will be made available for a limited period
Please only use your company email address for validation purposes as we will not respond to personal email accounts