What is the Training Guides Experience?
The Guides Experience addresses two requirements. Firstly, it enables a user (Guides Author) to create Training Materials and Work Instructions. Secondly, it enables a front line worker to be taken through those instructions on a step by step basis, i.e. trained on a process using Mixed and Virtual Reality. In addition, for complex build processes it can be used to guide an experienced worker using Mixed Reality.
The following video shows how the 2D and 3D content is prepared and stored using the Theorem Visualization Pipeline to create a Guides Experience.
Guides Authoring
The creation, or Guides Authoring stage, enables a user to create 2D and 3D content to be used in Mixed and Virtual Reality- the 3D content being CAD data which is automatically prepared for use by Guides. 2D content can be text based instructions, which can be combined with media (Photos/Videos) to further aid the front line worker. Guides enables the author to then merge the 2D and 3D content to create the training/work instruction into a composite document, which can be used in Mixed and Virtual Reality.
Guides Operator
Guides Operator is a Mixed and Virtual Reality experience which plays the authored instruction in the headset, and step-by-step takes the operator through the process. Rules can be applied to force the operator to follow the process and go back if a stage is missed.
Using Existing Content
As well as directly authoring new content from scratch in Guides, users who have content which is authored in systems like VisMock-up or Creo Assembly Process Plan can load that content directly into the Guides Experience and use it to train or assist front line workers using Mixed or Virtual Reality. Authoring takes place on the desktop using 2D and 3D content, using the Visualization Pipeline.
Why should I use the Guides Experience?
Product choice and "customer options" combined with the needs of multi-product enterprises means product build processes need to be flexible, modular, and easy to reconfigure. With increased flexibility, modularity, and re-configurability, there is a need to quickly train staff on new build processes or assist experienced staff on new complex build processes.
Modern manufacturers need staff to be flexible when the product mix changes, and ensure staff get quickly up to speed. Equally important is the need to get it right first time to shorten lead times, lower inventories, and reduce scrap.
Using Virtual Reality, staff can be trained on product build processes before the physical plant and products are available. Providing a full visual Guide of the manufacturing process transforms the task of assembling products rapidly with fewer errors. Using Mixed Reality, experienced front line staff can be assisted during complex build processes.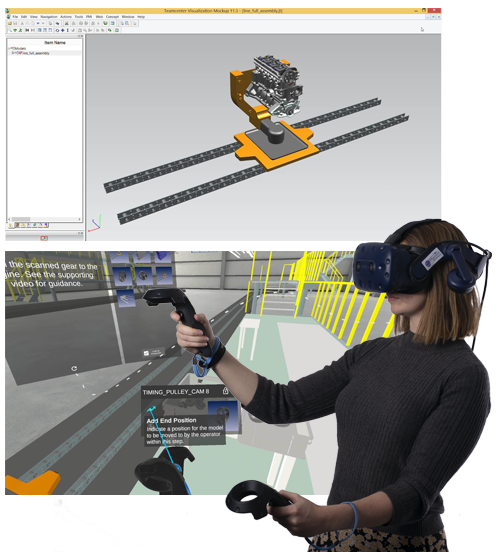 Automated Data Processing
Preparing data for the Guides Experience is a seamless fully automated process using the Visualization Pipeline. You can "save as" from your CAD session, drag and drop from the file system or drive it directly from your PLM workflow.
Demonstration Request
Register now to request your free demonstration of the TheoremXR product suite.
In just a few simple steps, we will be able to validate your request based upon the details you provide.
Note: Please use your company email address for validation purposes as we will not respond to personal email accounts.
Complete all of your required details.
Let us know which TheoremXR product you are looking to learn more about.
If you have a specific use case that you would like to discuss then please let us know.
We will contact you to discuss suitable days and times and get everything setup.