Theorem Solutions is thrilled to announce the latest update to TheoremXR (2023.2). Theorem's suite of Extended Reality (XR) products is constantly advancing to meet the demands of our valued customers and the ever-evolving world of engineering and manufacturing with spatial computing.
This release introduces exciting enhancements, such as Time and Motion capabilities, specifically designed for Mixed and Virtual Reality users. Additionally, Augmented Reality users can now benefit from new embedded QR Code features, which allow for seamless model loading. These advancements further solidify Theorem's commitment to delivering cutting-edge solutions for immersive experiences and promote ease of adoption in the realm of XR.
Time and Motion in XR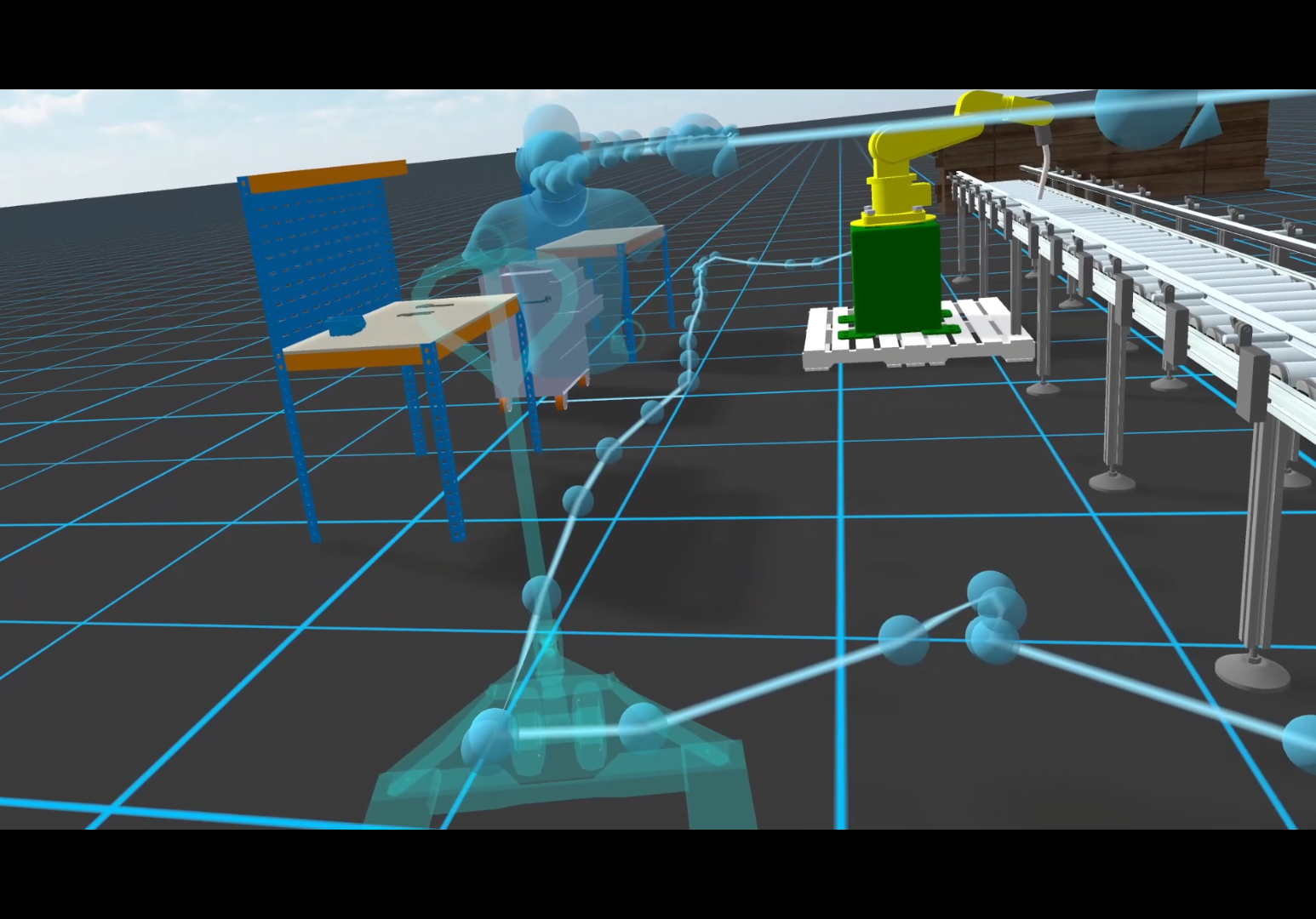 The integration of Time and Motion capabilities into TheoremXR for both Virtual and Mixed Reality devices opens new possibilities for optimizing existing processes and helping businesses to improve efficiency, productivity, and safety in their operations.
"Users can now leverage the power of VR and MR to conduct accurate time and motion studies, enabling them to identify bottlenecks, streamline workflows, and improve process efficiency through simulation," said Ryan Dugmore – Consultancy Director at Theorem Solutions.
Users can create virtual environments that closely resemble real-world settings, allowing for realistic simulations and accurate measurements of tasks and movements. By tracking and analysing the time taken for different motions and paths taken, users can identify areas for improvement and implement changes to optimize processes, reduce inefficiencies, and save valuable time.
These features can be utilized for a variety of circumstances. Analysing paths allows users to compare multiple methods of moving around a space to determine the most efficient route. It can also be used to help understand if an environment needs to be redesigned, for example if operators are having to move around an object or move back and forth between two workstations, Time and Motion users can analyse whether design changes could boost efficiency. The same principle can also be used in planning a new layout for a factory or other workspace. Potential layouts can be compared to determine which would be most efficient to work in.
Proximity Grab, Path Tracking and Ghost Path Review further develop user experience and deliver valuable insights as part of the time and motion capabilities.
Proximity grab is a valuable feature that mimics real world interaction by having users pick up nearby objects rather than interacting from a distance, therefore enhancing object manipulation, realism, collaborative design, and accessibility in VR or MR environments. The intuitive nature and direct manipulation capabilities, whilst essential to create accurate Time and Motion timings, also provide a more immersive and engaging user experience, opening new possibilities for spatial computing applications.
The Path Tracking feature enables businesses to optimize the movement of a specific path, to improve safety planning, coordination, and operator training. This offers valuable insights, reducing risks, and increasing overall efficiency. Users can compare paths using path analysis (e.g., how many objects were moved, and how much time it took) to streamline their processes.
The Ghost Path Review feature provides users with visual references of their previous paths supporting improved navigation, training, process optimization, collaboration, and spatial awareness within VR or MR environments. Ghost Path Review adds an extra layer of analysis, supplying important feedback that helps users make more informed decisions.
Comparing paths at different angles using the "birds-eye view" capabilities provides context, resulting in easier and more intelligent decision making to help to reduce errors and maximize efficiency.
Augmented Reality (AR) – Seamless QR Code Integration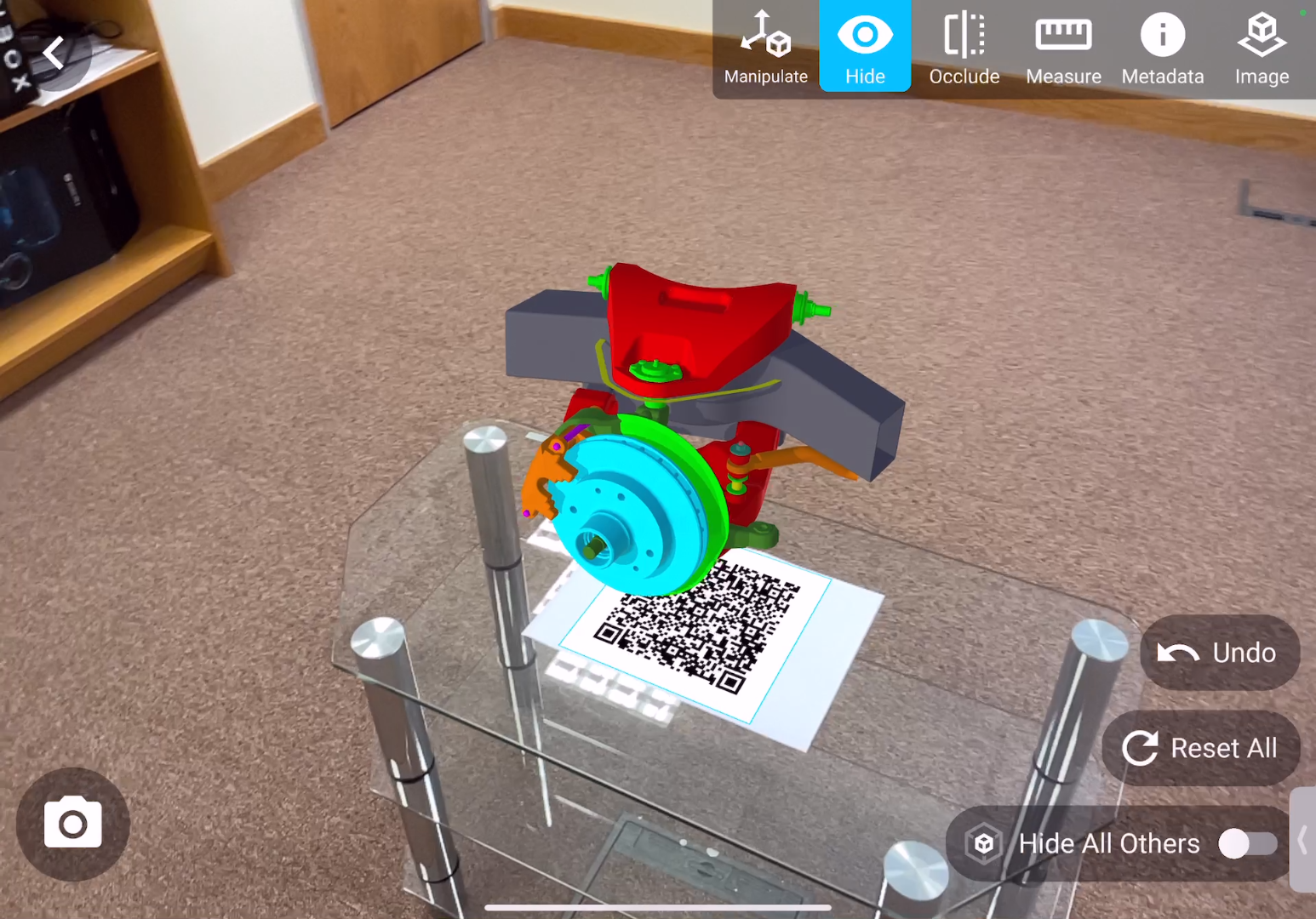 This release of TheoremXR also includes additional support for the Augmented Reality (AR) platform, specifically with the introduction of a QR code reader with supported Theorem Visualization Pipeline (TVP) deep links. For each of a user's models, the TVP now generates a unique URL and supporting QR Code. This new feature allows users to select a hyperlink or scan any model QR code, triggering the loading of the associated CAD model or layout directly into the AR scene without the need to select the model from project folders. This functionality brings numerous benefits to your AR platform and enhances the overall user experience.
By enabling quick and effortless access to specific 3D models or content, users can simply click a hyperlink or scan a QR code to load relevant information or 3D models directly in their real-world environment. This feature streamlines content delivery, making it more accessible and user-friendly.
User Benefits include:
Accurate Model Placement
Real-time Model Loading
Seamless Content Delivery
Contextualized Experiences
Simplified User Interaction
Enhanced Visualization and Collaboration
With the enhanced support for more direct model loading, TheoremXR eliminates the need for users to search or navigate through menus to find specific CAD models or full design layouts. This saves time and improves workflow efficiency, allowing users to focus on the task at hand without interruptions. It also enables on-demand access to relevant information, facilitating better decision-making and collaboration.
Additional Noteworthy Features at a Glance
Full Layout Load – Users can now upload a collection of data sets and create a layout in one hit, but can define each component individually. This layout will allow all components to be moved around without having to add them after experience creation.
Bill of Materials View – BOM – Assets within a scene can be displayed as a BOM view helping to easily highlight and determine the locations of component instances.
Multi-Level Project Folder Management – Improved user management of project data in folders and sub folders has been added at this release, allowing sub folder structure to be created at upload time.
Tooltip Comments and Sticky Notes – making comments more interactive, engaging, contextual, and accessible to aid feedback and collaboration as part of design review, visualization, and factory layout and planning.
Active Directory (AD) Integration – Enhanced support for AD user groups and Azure AD integration for the TVP and Hololens 2 device.
About TheoremXR
If you are new to TheoremXR, an XR (augmented reality, mixed reality, and virtual reality) platform, its applications are primarily geared towards engineering and manufacturing solutions utilizing XR technology. TheoremXR empowers users to collaborate effectively on a large scale, providing a contextually immersive environment.
The platform offers a wide range of XR experiences that facilitate visualization, design review, factory layout planning, training, and visual digital twin creation. These experiences leverage the capabilities of XR to enhance and optimize processes in engineering and manufacturing industries.
TheoremXR provides a visualization pipeline (TVP) that streamlines the process of converting CAD data into XR-ready formats. This pipeline simplifies the integration of computer-aided design (CAD) models into XR applications, ensuring a seamless transition from the design phase to immersive XR experiences.
Want to Know More?
If you wish to find out more, visit our TheoremXR pages or get in touch with our team using the form below. Make sure to keep up to date with the latest Theorem news by following us on LinkedIn and Twitter.