Theorem Solutions attended many engineering and manufacturing focused events in 2022. 2023 has also started positively, showcasing our latest XR and 3D PDF innovations at both Southern Manufacturing 2023 in the UK, and the D&M West in Anaheim, USA.
These events are always a great opportunity to speak to industry professionals, understand the overarching concerns of the industry, and assess how our solutions could help new use cases. Theorem's Customer Success Executive, Tom Muir, has attended many of these events and gained valuable insight into how Extended Reality (XR), which includes Augmented, Mixed, and Virtual Reality, can help improve engineering and manufacturing companies' processes. We spoke to him about his thoughts:
---
I have been at multiple industry events in the past few months and experienced the interest surrounding extended reality technology first-hand.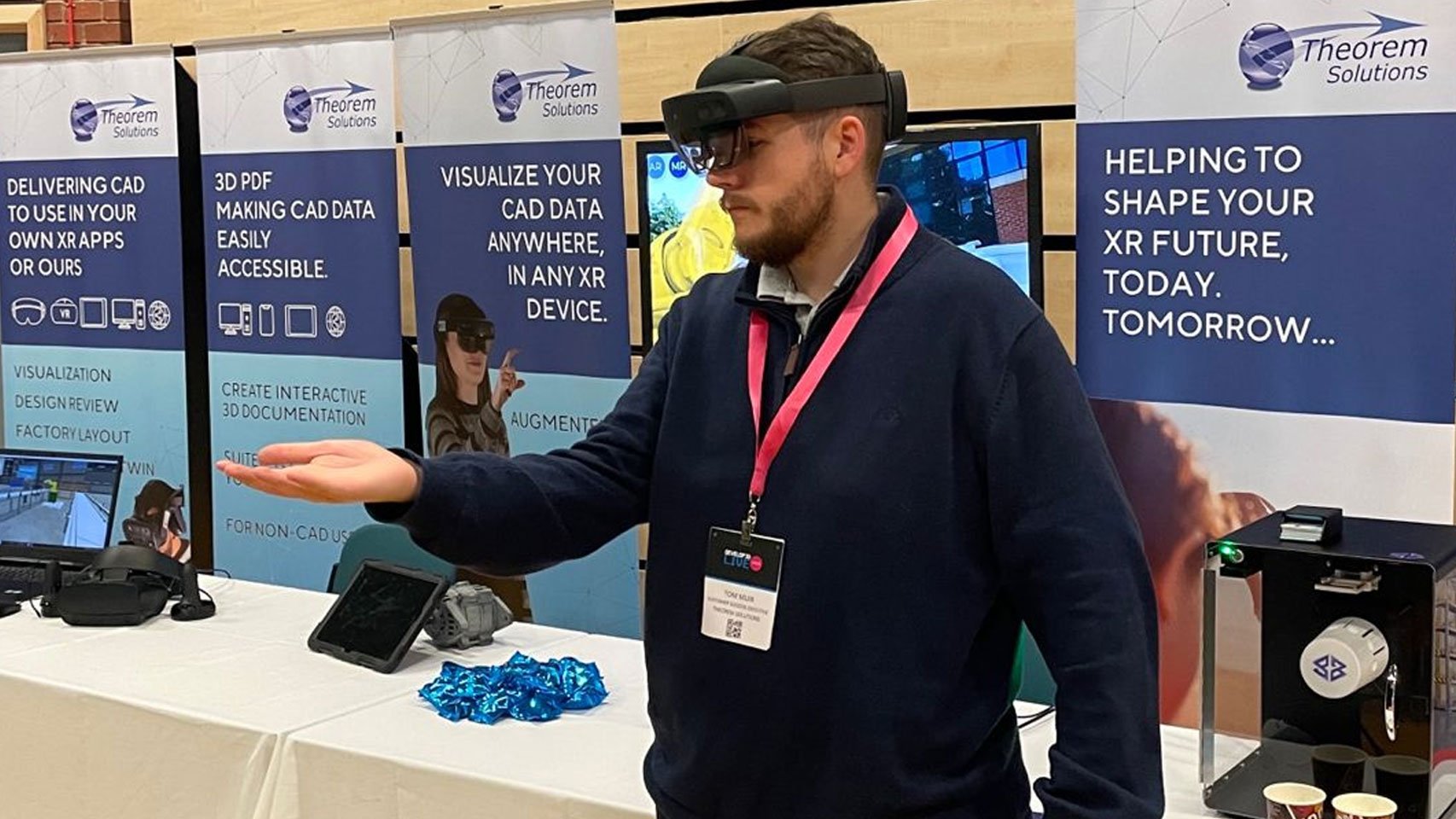 For me, the most exciting part about XR is international collaboration use cases, where users are working together on their projects virtually, rather than in-person. These are some of the main benefits of working in XR for engineering and manufacturing companies that I've noticed:
1. Reduced Travel and Material Costs
One of the main improvements to engineering and manufacturing processes when using XR is the 'return on investment' seen when it comes to travel and material costs. When using XR to collaborate on a task, as opposed to meeting in person, you can significantly reduce travel costs to your business. Since these are often international/intercontinental flights, it adds up to significant savings.
One of Theorem's customers, Valiant TMS, spoke about how they had tasks that previously took days to complete in addition to the required travel time but "after adopting HoloLens with TheoremXR and applying them to our process, we've been able to do many of these tasks in a matter of hours, without having to travel. It's much more efficient". Of course, in addition to the money saved on all this travel, you are also saving a lot of time that could be spent on additional projects.
Read the Valiant TMS case study in full
2. Environmentally Friendly
The climate crisis has been on everybody's minds recently, and many businesses are shifting their focus towards new 'green measures' to help reduce carbon emissions and ultimately protect the environment. Of course, air travel is a massive contributor towards pollution, so it's natural that many companies across the globe are now working to reduce the amount of international travel they make.
XR technology is a natural step towards reducing the flights that staff are making. In fact, Investopedia and SalesTrip report that "Business travellers make up 12% of airline passengers" and "companies spend around 10% of their revenue on business travel-related expenses".
By using XR for conducting design reviews and other meetings, training new starters, or even factory layout planning, you can take a massive step towards meeting the company's environmental agenda.
3. Less Money Spent on Early-Stage Prototypes
Reducing unnecessary costs in the production of early-stage prototypes is also a theme of our customers' XR project feedback. I met multiple manufacturing managers and innovation managers who came to our stands at these events saying that they're spending too much money on design review processes, and in some cases, they are manufacturing many different prototype models only for them to be thrown out during the review process after only a few minutes. If these reviews were done in XR, and the selection process of these CAD designs didn't require any materials to be used, then business expenditure could be further reduced.
4. Lifelike Collaboration
At the events I've attended, there were people saying: "but surely this isn't the same as being there in person". Of course, everyone will have their own preferred way of visualizing their designs and reviewing CAD data. However, XR collaboration is not just any standard meeting or CAD design review. Whether you are using virtual reality (VR) and are in a completely immersed, digital environment; or mixed reality (MR) and can see the real environment with the CAD data projected into your surroundings, you are visualizing your designs at a real-world scale and putting them in context, effectively imitating an in-house review with the highest accuracy.
Collaborative design review session with two local HoloLens 2 users and a remote VR user
---
Utilizing XR can save engineering and manufacturing companies time and money in a wide range of different ways. By allowing for digital meetings that are much more immersive than simply looking at a screen, XR can be applied to a variety of use cases.
In Brief
• Conducting design reviews and other meetings in extended reality (XR) rather than in person can save you time and money on travel costs.
• In addition to lessening travel costs, replacing in-person meetings with ones in XR can reduce the carbon emissions associated with air travel. Which is important for companies trying to be more environmentally conscious and meet carbon-neutral targets.
• XR can also reduce the number of early-stage prototypes that need to be built. Instead of building multiple prototypes to review, projects in development can be visualized in XR allowing decisions to be made without needing to spend money on producing prototypes.
• XR creates an immersive environment that allows you to visualize your CAD data in context and at full scale, which makes it much more interactive than other digital meetings.
To learn more about how you can collaboratively work around your designs using XR technology, get in touch with our team of specialists today. You can also follow us on LinkedIn and Twitter for the latest XR news and updates.