Over the past few years, Theorem has helped our customers to innovate and deliver significant efficiency savings in the deployment of new Extended Reality (XR) technologies.
Our Theorem-XR software is supporting the growing demand for Augmented, Mixed, and Virtual Reality experiences within Design, Engineering, and Manufacturing, and we are pleased to welcome new colleagues to the business who will be focused on delivering continued success for Theorem in this area.
We spoke to the new recruits about their first few weeks here at Theorem and about their thoughts on the technology.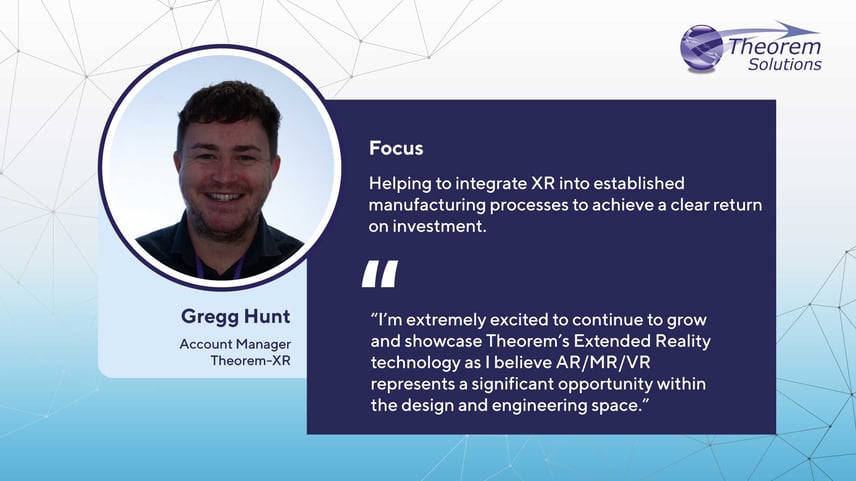 Gregg Hunt is one of our new Account Managers. When asked about his experience as a new recruit Gregg said:
"It's been a fantastic start to becoming an Account Manager for Theorem Solutions, the team have been so friendly in welcoming me. I'm extremely excited to continue to grow and showcase Theorem's Extended Reality technology as I believe AR/MR/VR represents a significant opportunity within the design and engineering space. Reducing the cognitive gap for engineers and enabling them to work collaboratively around their rich CAD data and designs in full scale is so exciting, which we know from our current customers. I truly believe Extended Reality is now a priority for manufacturing and engineering-based businesses, and my job is to put Theorem's tools in front of the people who know this."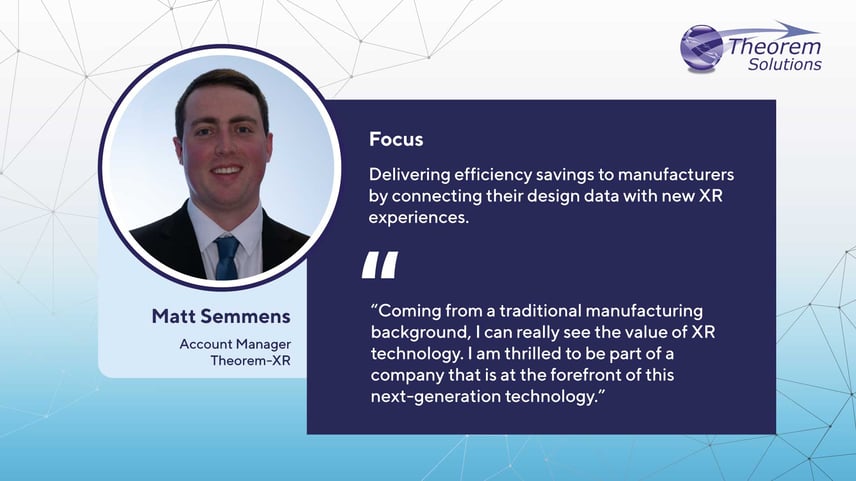 Our second new Account Manager is Matt Semmens, and Matt's been quick to learn about the benefits that XR can bring to our customers. Here's what he had to say:
"I am really enjoying my time at Theorem, and the level of knowledge and technical expertise within the team is great to see. Coming from a traditional manufacturing background, I can really see the value of XR technology, and it is clear why more and more engineering and manufacturing firms are incorporating XR into their processes.As an Account Manager at Theorem, my aim is to showcase the range of benefits and advancements that XR can provide, as I know many people (including myself prior to joining Theorem!) will be unaware of the real-world cost-savings and efficiency improvements that can be achieved.It is a hugely exciting time to join the industry and I am thrilled to be part of a company that is at the forefront of this next-generation technology."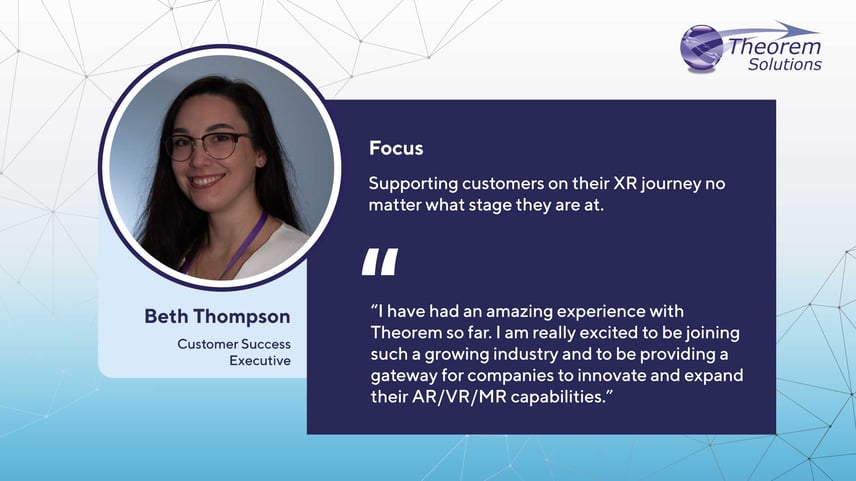 The third member of the team is Beth Thompson, our new Customer Success Executive. She had a busy first couple of weeks attending events and learning about the industry but settled in quickly. We asked Beth about how her start has been:
"I have had an amazing experience with Theorem so far. Everyone within the company has been incredibly welcoming and supportive.I have had the opportunity to attend Advanced Engineering 2022 at the NEC Birmingham and exhibit for two days at the SMART Factory event in Liverpool — both of which allowed me to network, learn, and develop into my role as a Customer Success Executive. I am really excited to be joining such a growing industry and to be providing a gateway for companies to innovate and expand their AR/VR/MR capabilities.My goals at Theorem are to continue to learn the industry and make meaningful connections that will support the business."We asked Theorem's Sales Director, Richard Scales, for his thoughts on the growing team and what it means for the business.
"I am pleased to welcome Beth, Gregg, and Matt into Theorem's expanding sales team. The business has invested significantly in developing our Theorem-XR software, which is delivering value to organisations innovating in the Augmented, Mixed, and Virtual Reality technology space. We're now at an exciting stage where our proven technology is ready to reach an even wider audience, and our new team members will be instrumental in supporting new and existing customers in the future.I wish them every success in their roles."
Learn more
If you'd like to learn more about XR, get in touch with our team today. They'll be happy to discuss how your organisation could benefit from Theorem-XR and assist your adoption of this invaluable new technology.