Live Webinar | 6th October, 2022
On Thursday 6th October, Consultancy Director Ryan Dugmore from Theorem Solutions will be discussing how to Extend the Use of Your Engineering Design Data in association with the Institution of Mechanical Engineers (IMechE).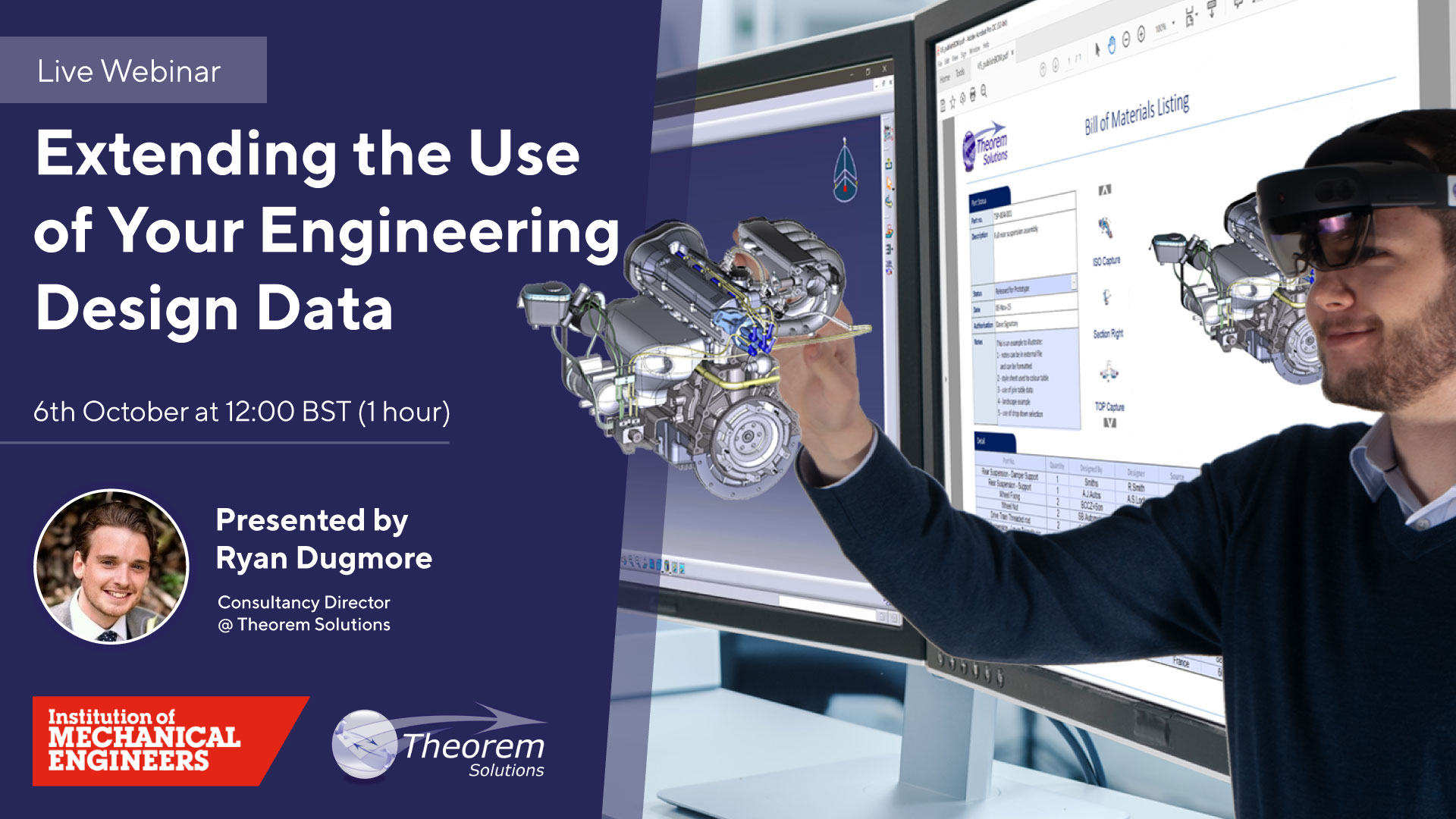 Webinar Overview
Whether you need to translate, publish, or visualize, solutions exist that will deliver your CAD and visualization data in the optimum form, ready for collaboration and downstream re-use.
In today's engineering and manufacturing environment, companies must collaborate, and very often that means that your CAD and PLM data has to be shared. Nearly all products involve complex and multi-continent supply chains, which are often using different CAD and PLM tools for design and manufacturing.
There is no one size fits all solution for Data Exchange, so thought needs to be given to the type of data and its content, whether it's for manufacturing, viewing only, or if it needs simplifying to protect intellectual property.
This webinar will discuss the best formats to share and exchange different CAD and Visualization data with customers and suppliers, whether that is in its native form, translated to a different format, published to the 3D PDF format, or prepared and optimized for full-scale collaborative visualization in the latest Augmented, Mixed and Virtual Reality devices.
Where can I watch it?
You can book your place to watch the webinar live, or if you're unable to attend on the day, you can register here to receive a recording.
Summary
By watching this webinar, you'll learn the most efficient ways to:

• Exchange CAD data with your customers and wider supply chain with CAD translation
• Effortlessly share CAD data with non-CAD users using 3D PDF
• Prepare and optimize design data for full-scale visualization
• Work collaboratively in Augmented, Mixed, and Virtual Reality
To keep up to date with the event, follow Theorem on LinkedIn or Twitter for the latest updates.
We're looking forward to seeing you there!